Hello guys
Je viens de tomber sur cette petite vidéo tirée du concert d'Imperial Triumphant au New York Slipper Room. Ils y jouent le titre "Chernobyl Blues" de l'album Vile Luxury. Avant-gardiste dites vous ? Rappelons que leur dernier album, Alphaville, date de l'année dernière. Vivement la suite...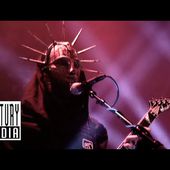 IMPERIAL TRIUMPHANT - Chernobyl Blues (OFFICIAL LIVE VIDEO)
Taken from the Album "An Evening With Imperial Triumphant", Out November 26th, 2021Order now: https://imperialtriumphant.lnk.to/AnEveningWithImperialTriumpha...